Hosting With cPanel
Boost your website performance and resources with our best plans from the Cheap Web Hosting Provider India.
By using cheap cPanel hosting from India or Linux hosting with cPanel plans and a free SSL Certificate, you may quickly launch a WordPress website.
Top-notch Features
Bluegeek Hosting also provides cheap Plans for Limitless Web Hosting. These plans offer unlimited resources and the "cPanel" control panel, which is both the most user-friendly and the most demanding, at an extremely low cost. 

Control Panel
The world's greatest hosting is provided by our best limitless hosting, the cPanel Control Panel.

Quicker SSD Space
On unlimited hosting plans with unlimited SSD storage, take advantage of 50% faster speed.

LiteSpeed WebServer
Better static speed and quicker web application performance are all provided by LiteSpeed Web Server.

Softaculous Installer
Our unlimited hosting plans include an installer for 300+ pre-configured web apps, including WordPress.

Daily Backups
With Our unlimited web hosting plans, we offer Free monthly backups to guard against website errors.

FREE SSL Certificates
SSL Certificates increase client confidence and improve search engine ranking.
cPanel Web Hosting Suggested For Wordpress Or Woocommerce Websites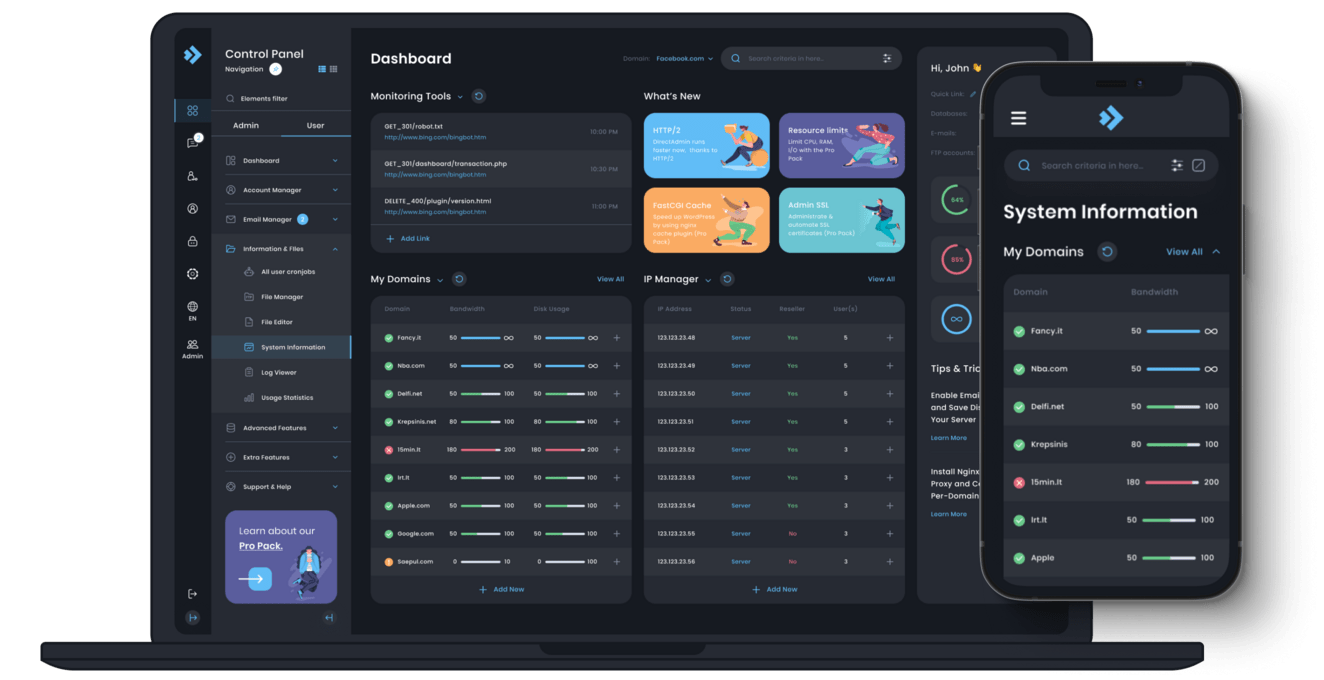 Cheap cPanel Hosting: Our cPanel web hosting plans are a particular sort of web hosting that include 1.5 GB of RAM power and the cPanel control panel UI. In order to accomplish many website maintenance tasks, such as setting up an online store or registering an email account, cPanel offers a straightforward and user-friendly graphical web-based user interface. 
With its cPanel Control Panel, which is also the most popular GUI control panel in the hosting industry, cPanel web hosting makes it simple to maintain WordPress websites. It is best suited for simple e-commerce websites built on WordPress or WooCommerce, medium dynamic websites, and seasoned entrepreneurs or bloggers.
Almost every sort of website, including php websites, HTML5 websites, Opencart websites, etc., may be hosted using cheap hosting with cpanel.
 Frequently Asked Questions
With India's inexpensive cPanel hosting or Linux hosting with cPanel plans & Free SSL Certificate, you may quickly launch a WordPress or WooCommerce website.
What Benefits Come With Choosing cPanel Web Hosting?
It is incredibly simple and straightforward to understand how to use and operate Cpanel web hosting. It is quite effective and both time and money are saved. Software auto installers are included with Cpanel web hosting, and there are a tonne of tutorials and support resources online. A tried-and-true type of web hosting with very simple features and settings is Cpanel web hosting.
Is This Possible To Host Multiple Websites With cPanel Web Hosting?
Yes, Bluegeek Hosting is a shared form of web hosting, one may simply host multiple websites at affordable rates with the various packages offered by Bluegeek Hosting.
Bluegeek Hosting prioritizes its clients with awesome discounts! You can contact us right now to take advantage of the finest discounts on annual hosting plans and save a lot.
What Are The Different cPanel Web Hosting Plans?
The best and most affordable Cpanel web hosting company in India is Bluegeek Hosting. Our monthly plans start at just Rs. 60. It includes a drag-and-drop website builder, programme installer, unlimited data transfer, 5 GB SSD storage, 1.5 GB RAM Cpanel control,email account, and a lifetime free SSL certificate.
You can host many websites with our other plans, which also have higher SSD storage and additional services. You can host 2 websites with our Rs 120 per month plan, which also includes 10 GB SSD storage, unrestricted data transfer, 1.5 GB RAM Cpanel control, email accounts, drag-and-drop website building, app installer, and a lifetime free SSL certificate.
Similar to this, another plan of Rs 180 per month will allow you to host unlimited domains, along with 15 GB of SSD storage, among other benefits like unrestricted data transfer, 1.5 GB RAM Cpanel control, email accounts, drag-and-drop website building, app installer, and a lifetime free SSL certificate.
What Characteristics Should I Search For In A Web Host That Provides cPanel Web Hosting?
It is usually essential to look for a web host that not only provides Cpanel web hosting services at affordable rates but also upholds the highest standards of customer care. A web host that provides hassle-free customer service is always a yes, in addition to a variety of other benefits. You may get the best and most affordable Cpanel web hosting from Bluegeek Hosting, together with excellent chat and issue service.
What Distinguishes cPanel Web Hosting From Other Hosting Options?
Web hosting with Cpanel is considerably simpler to use. It keeps it easy to use and gives you considerable control over many settings and features. The Cpanel interface gives users a wide range of management options for their websites, intranets, domains, backups, security, and other online assets.
What Is This Cpanel?
An online graphical user interface (GUI) with a Linux foundation called cPanel is used as a control panel to make managing servers and websites easier. You may publish websites, manage domains, arrange web files, create email accounts, and other things with cPanel.
One of the most widely used control panels on the web is cPanel. Customers of several web hosting firms receive cPanel as part of their hosting subscription.
cPanel has two interfaces: the cPanel user interface and the Web Host Manager server management interface (WHM). This combination gives users the ability to control their website and gives hosting companies the resources they need to control the server.
Is Hosting With cPanel Appropriate For A Brand-New Website?
For web hosting accounts, Cpanel is one of the most often used control panels. Users may effortlessly manage all services in one location thanks to it. It is simple to use and intuitive. 
One can handle a web hosting account as effectively as possible with Cpanel web hosting. Complex activities like adding new FTP users and email addresses, keeping track of resources, setting up subdomains, and installing software have now become easier thanks to Cpanel web hosting. Cpanel web hosting comes highly recommended for new websites due to its user-friendly interface.
What Are The Various cPanel Web Hosting Features?
The features of various Cpanel installations vary. Because Cpanel web hosting is easier to use, browsing to learn more about various sections is simple. In order to make it simple for our customers to learn how to use Cpanel web hosting, We additionally offer a free sample of the service. With Cpanel web hosting, it's simple to modify the Cpanel installation's layout to suit one's demands.
You may instantly upload and manage files using various Cpanel web hosting modules without using FTP clients. You can also configure privacy preferences, create backups, install various software programmes, manage one hosting account for several websites, create subdomains, and do other operations.
What Security Tools Are Included With cPanel Web Hosting For Users?
Most individuals are quite concerned about security, especially if it entails storing personal data like usernames, passwords, and financial information. The security module included with Cpanel web hosting makes it easy to monitor important security settings and to customize your hosting account's security to best fit your needs. 
Bluegeek Hosting offers users the greatest backend security options with Cpanel web hosting, including Hotlink Protection, IP Blocker, Leech Protection, Mod Security, IP Blocker, Manage API Token, SSL/TLS, SSL/TLS Wizard, and SSL/TLS Status.