Choose the perfect plan for your website.
Top-notch Features
Bluegeek Hosting also provides cheap Plans for Limitless Web Hosting. These plans offer unlimited resources and the "cPanel" control panel, which is both the most user-friendly and the most demanding, at an extremely low cost. 

Control Panel
The world's greatest hosting is provided by our best limitless hosting, the cPanel Control Panel.

Quicker SSD Space
On unlimited hosting plans with unlimited SSD storage, take advantage of 50% faster speed.

LiteSpeed WebServer
Better static speed and quicker web application performance are all provided by LiteSpeed Web Server.

Softaculous Installer
Our unlimited hosting plans include an installer for 300+ pre-configured web apps, including WordPress.

Daily Backups
With Our unlimited web hosting plans, we offer Free monthly backups to guard against website errors.

FREE SSL Certificates
SSL Certificates increase client confidence and improve search engine ranking.
cPanel Web Hosting Suggested For Wordpress Or Woocommerce Websites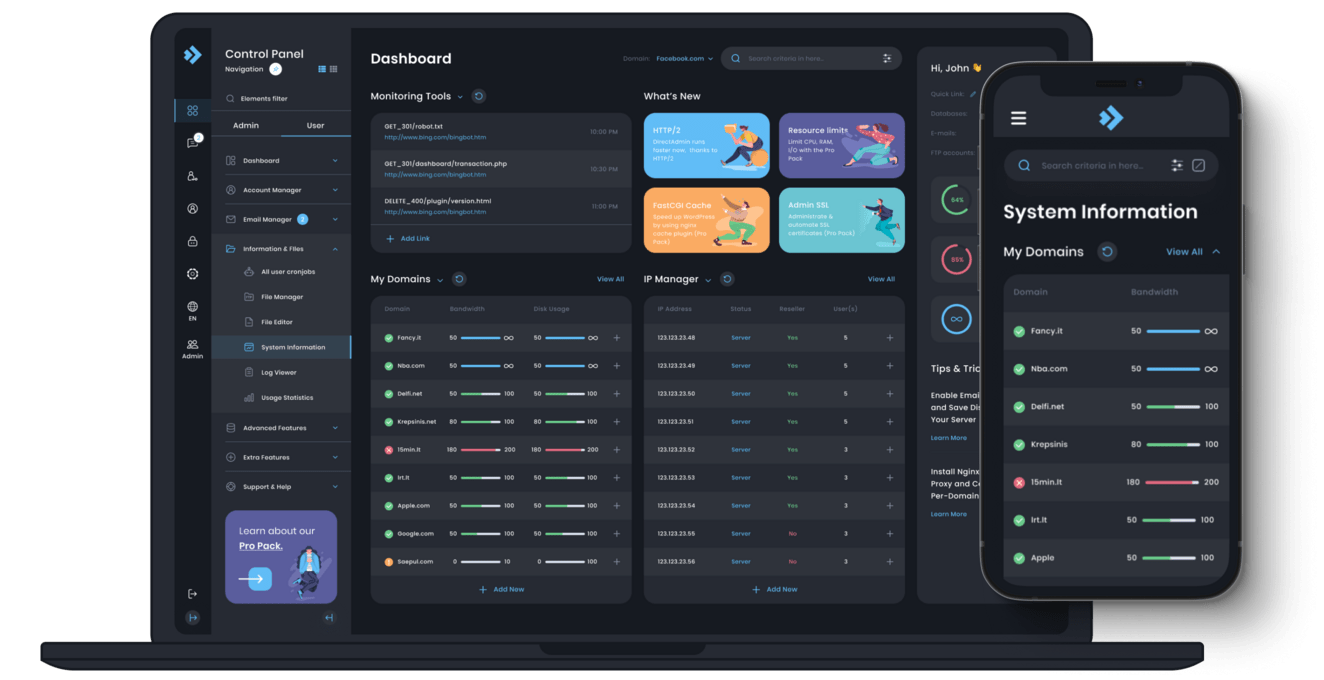 Cheap cPanel Hosting: Our cPanel web hosting plans are a particular sort of web hosting that include 1.5 GB of RAM power and the cPanel control panel UI. In order to accomplish many website maintenance tasks, such as setting up an online store or registering an email account, cPanel offers a straightforward and user-friendly graphical web-based user interface. 
With its cPanel Control Panel, which is also the most popular GUI control panel in the hosting industry, cPanel web hosting makes it simple to maintain WordPress websites. It is best suited for simple e-commerce websites built on WordPress or WooCommerce, medium dynamic websites, and seasoned entrepreneurs or bloggers.
Almost every sort of website, including php websites, HTML5 websites, Opencart websites, etc., may be hosted using cheap hosting with cpanel.
 Frequently Asked Questions
Providing affordable shared web hosting in India. With free SSL, host numerous WordPress websites on the quickest and most powerful Linux shared hosting plans.
What Do You Mean By Unlimited Hosting Plans?
Web hosting plans referred to as "unlimited web hosting" allow for the hosting of an unlimited number of websites, together with an unlimited number of domain names, bandwidth, and storage. Several of the well-known hosting companies offer inexpensive, limitless hosting packages to their clients.
Which Unlimited Web Hosting Plans are available?
Bluegeek Hosting provides a variety of Advance hosting packages, which also includes unlimited hosting packages. Customers can choose from a variety of plans that meet their needs. 
Our range of unlimited hosting packages begin at a cheap monthly plan for Rs 180 and come with unlimited domain, 15GB disc storage, unlimited subdomains, unlimited data transfer, unlimited email accounts, drag and drop website builder, app installer, and a lifetime free SSL certificate. We also have other cheap unlimited hosting plans that will work best for you if this is not what you are searching for. To obtain the best price, view all of our Unlimited Hosting options.
What Should I Think About Before Purchasing Unlimited Hosting Plans?
Customers always find it a troublesome and exhausting task while choosing the ideal host for their website because there are so many web hosting solutions available online. 
In order to help you select the finest host for unlimited hosting for your website or websites, we are here. If you're looking for unlimited web hosting, keep in mind that although all "unlimited hosting plans" are truly unlimited, your web host will almost always impose certain limitations. 
Therefore, it is strongly advised that while selecting a host for unlimited hosting, you not only read the package itself but also search for the terms and conditions. Always go with a web host who is dependable and knowledgeable in the industry. 
Here at Bluegeek Hosting we provide you with a variety of unlimited hosting solutions for your website. We are committed to making sure our clients are happy and that you have an awesome web hosting experience.
Does My Website Require More Sophisticated Hosting?
You can upgrade to better hosting at any moment, including VPS Hosting, Business Hosting, or Cloud Hosting, if it turns out that your website or needs outgrows shared web hosting.
How Many Websites Does An Unlimited Hosting Plan Provide?
We provide a variety of plans for each client. Therefore, you have come to the right spot whether you're looking for an unlimited hosting plan that allows you to host one website with unlimited storage, bandwidth, domain names, etc. or if you're looking for an unlimited hosting plan that allows you to host from single to unlimited websites.
How Is Unlimited Web Hosting Possible?
By "Unlimited Web Hosting" we simply mean to provide you the hosting plans that include limitless bandwidth, unlimited storage, unlimited domains, and unlimited website hosting. Unlimited Web hosting gives you the freedom to host as many websites as you need under an equal number of domain names, as well as an infinite amount of files on your web server and unlimited bandwidth for website visitors.
Are Unlimited Hosting Plans Unique From Other Hosting Options?
For different kinds of websites, different forms of web hosting are most appropriate. With unlimited web hosting, you have access to unlimited disc storage, unlimited subdomains, unlimited data transfers, unlimited email accounts, etc., which sets it apart from other types of hosting.
Check out our many hosting plans at Bluegeek Hosting to see which one is most suitable for you and is also the most cost-effective!
Will I Get The Best Limitless Hosting Experience?
Along with offering excellent hosting services, Bluegeek Hosting is popular for providing the best & fastest customer assistance. We have a fantastic track record of offering our clients the finest possible resolutions, and we have been active in the web hosting industry since 2017. We offer the best and most affordable unlimited web hosting in India. All of our hosting packages are both cheap priced and highly secured.
We offer you the cheapest hosting platform in addition to wonderful features which includes- 24/7 technical ticket assistance. Our services have been updated to the most recent version and are constantly being improved in an effort to enhance your hosting experience. 
We provide our services at cheap rates without sacrificing the quality of service. Additionally, we enjoy occasionally showering our consumers with enticing offers and discounts. Be limitless with the unlimited hosting plans on Bluegeek Hosting.
What Does "Unlimited Bandwidth" Mean In Hosting Plans With Unlimited Bandwidth?
The amount of data that is transferred from your website's server to the server of your visitors is known as bandwidth. Plans that have unlimited hosting also include unlimited bandwidth. 
In plain English, it indicates that you won't be charged for any bandwidth used or data transferred between your server and a visitor's PC. With unlimited bandwidth, you can be sure that even if your website has a spike in traffic, it will continue to function normally and won't be penalized by the hosting company.
Do Unlimited Hosting Plans Include Unlimited Storage As Well?
Yes, all Unlimited Hosting Plans at Bluegeek Hosting have Unlimited Storage starting at just Rs 180 per month! You can host an unlimited number of website-related files on the server thanks to Unlimited Storage. This is quite important if your website uploads a lot of website-related data and utilizes a lot of storage. 
Note: Using the server for storage, file sharing, bulk image uploads, music, movies, or Mp3 songs is not permitted. Users can read our Unlimited Web Hosting Policy on our Terms & Conditions page.