Top-notch Features
Bluegeek Hosting also provides cheap Plans for Limitless Web Hosting. These plans offer unlimited resources and the "cPanel" control panel, which is both the most user-friendly and the most demanding, at an extremely low cost. 

Control Panel
The world's greatest hosting is provided by our best limitless hosting, the cPanel Control Panel.

Quicker SSD Space
On unlimited hosting plans with unlimited SSD storage, take advantage of 50% faster speed.

LiteSpeed WebServer
Better static speed and quicker web application performance are all provided by LiteSpeed Web Server.

Softaculous Installer
Our unlimited hosting plans include an installer for 300+ pre-configured web apps, including WordPress.

Daily Backups
With Our unlimited web hosting plans, we offer Free monthly backups to guard against website errors.

FREE SSL Certificates
SSL Certificates increase client confidence and improve search engine ranking.
cPanel Web Hosting Suggested For Wordpress Or Woocommerce Websites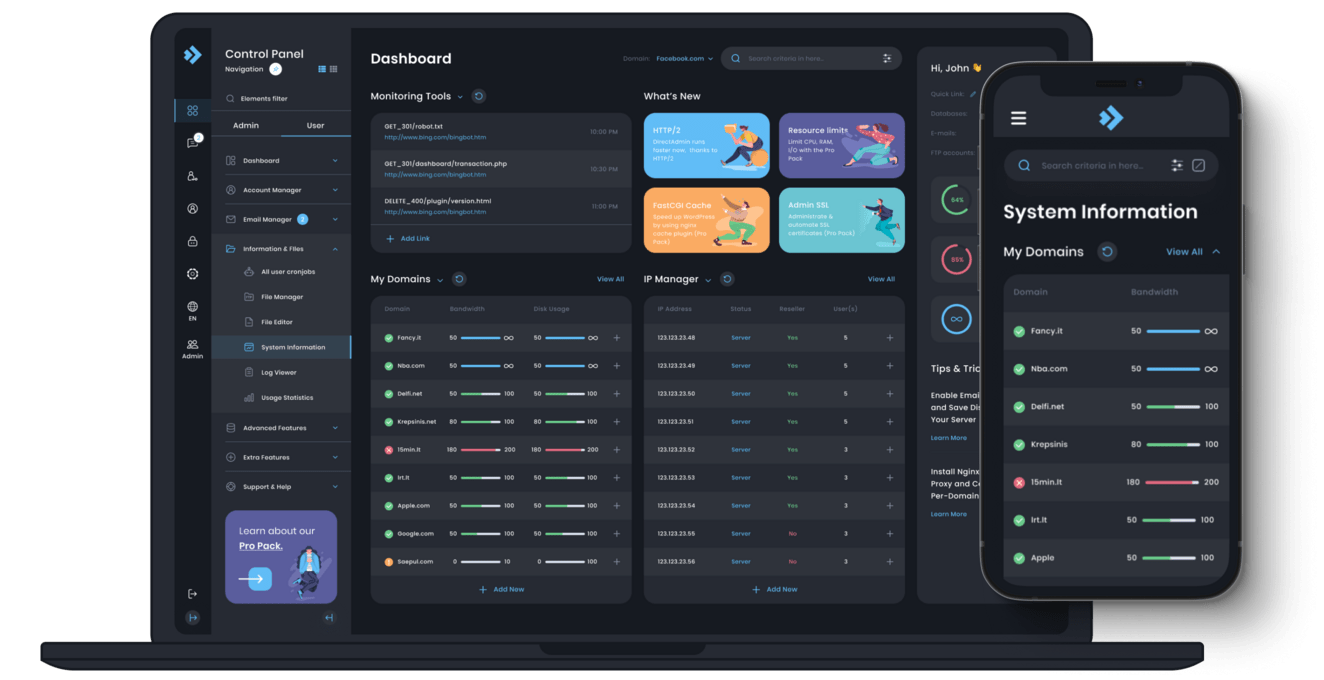 Cheap cPanel Hosting: Our cPanel web hosting plans are a particular sort of web hosting that include 1.5 GB of RAM power and the cPanel control panel UI. In order to accomplish many website maintenance tasks, such as setting up an online store or registering an email account, cPanel offers a straightforward and user-friendly graphical web-based user interface. 
With its cPanel Control Panel, which is also the most popular GUI control panel in the hosting industry, cPanel web hosting makes it simple to maintain WordPress websites. It is best suited for simple e-commerce websites built on WordPress or WooCommerce, medium dynamic websites, and seasoned entrepreneurs or bloggers.
Almost every sort of website, including php websites, HTML5 websites, Opencart websites, etc., may be hosted using cheap hosting with cpanel.
 Frequently Asked Questions
Providing affordable shared web hosting in India. With free SSL, host numerous WordPress websites on the quickest and most powerful Linux shared hosting plans.
What advantages Do Linux Shared Hosting Users Receive?
Linux shared hosting is incredibly affordable and user-friendly. It is not only cost-effective but also quite powerful and has a tonne of features, including free SSL, one-click installation of WordPress and OpenCart, an SSD drive, and others.
What Are The Benefits Of Shared Linux Hosting?
Users of shared hosting plans share a server with the websites of numerous other users. These websites are all hosted on the same server under several usernames, and the server's IP address and disc are shared by all of them. It is quite affordable, which makes it ideal and well-liked for people who want to create a basic website, simple blogs, etc. without spending a lot of money.
When using Apache or Nginx as the primary web server software, Linux is the best choice. All online projects, from a modest private website to expert online store systems, can be implemented with the ideal support of scripting languages like PHP, Python, Perl, or CGI and the use of database systems like MySQL or PostgreSQL. 
Linux web hosting is also compatible with a wide range of open source software, such as content management systems and e-commerce programmes.
How Do You Select The Best Hosting Plan For Your Website?
Finding a cheap shared web hosting service with features like SSD storage, top-notch technical support, free SSL certificates, Softaculous, unlimited bandwidth, etc. is crucial. All of the aforementioned capabilities are offered by our platform along with fantastic hosting services like live chat, ticket help, and call assistance available around-the-clock.
What Is Multiple Domain Hosting?
With multiple domain hosting, a user can host many domains (more than one domain) in a single hosting package and have various online presences for a significantly reduced price. Every single year, we'll give you the greatest service we can. It will work well for modest websites or blogs that don't demand a lot from the server. 
Bluegeek hosting services for many websites are among the cheapest and quickest available. For those only searching for an online presence as well as beginners, our affordable shared web hosting services are ideal.
We offer the strongest Linux shared hosting packages available together with Free SSL, and we constantly ensure that our clients' websites are up and functioning. For hosting entry-level or large commercial websites, we have many sorts of plans for startups, students, and website bloggers. 
Although the hosting costs are quite low, it offers a wealth of features, like free SSL certificates with automatic script installers, email accounts, and a WordPress builder tool, among others.
What Are The Advantages Of Multiple Domain Hosting?
The Advantages Of Multiple Domain Hosting Are-
It enables several audiences to see your one company.

High Turnover.

Information about your company could be shared in numerous nations and languages.

It enables using niche websites to highlight business specialization.
Is A Domain Name Necessary If I Want To Host Many Domains?
Yes, a domain name must be purchased in order to purchase a hosting package for more than one domain. Users have the option of purchasing a new domain name or using their current domain name to purchase Linux Shared Hosting (Multiple Domain Hosting)
What Should I Do If My Website Needs More Advanced Hosting?
If a user's website is hosted on Linux shared hosting and needs additional resources, such as RAM and CPU, you can upgrade at any time to a better hosting plan, such as VPS Hosting, Small Business Hosting, or Cloud Web Hosting.
Note: The resource uses option in cPanel allows users to view the resources they have used.
What Does An SSL Certificate Entail? Does Web Hosting Include Free SSL?
An SSL certificate (Secure Sockets Layer Certificate). The ability to switch from http to https, which is far more secure, is provided via SSL certificates. A website needed an SSL certificate to protect user information, prove the site's ownership, and deter hackers.
Yes, shared hosting plans provide a free SSL certificate.
Why Are Shared Hosting Plans So Affordable?
With Linux shared hosting, numerous websites share a single Linux server's resources. The cost will be split among all the users because there are so many different websites running on a single large hosting server.
When Should I Choose Hosting For Multiple Domains?
Choose the Cheap Shared Web Hosting options if you need web hosting to manage your company's, blog, or portfolio website (Multiple Domain Hosting).